A pastel pink or rich red collection of the most subtle of flowers - the carnation. Arranged to compliment each other, the collection is available as a set or as individual pieces.
** For further information as to this collection, please call the store **


Orientation: N/A

All prices in USD ($)

Due to seasonal price increases on flowers and floral supplies our prices will reflect an increase for the holiday.
Timeless Traditions Collections (Pink)

TTCOL-HP

Timeless Traditions Collections (Red)

TTCOL-HP

A: Timeless Traditions Pink Carnation Casket Spray

TTP002-HP

B: Timeless Traditions Red Carnation Casket Spray

TTR002-HP

C: Timeless Traditions Pink Carnation and Fuji Mache

TTP003-HP

D: Timeless Traditions: Red Carnations Mache

TTR003-HP

E: Timeless Traditions Standing Spray Red

TTR001-HP

F: Timeless Traditions Pink Carnation Standing Spray

TTP001-HP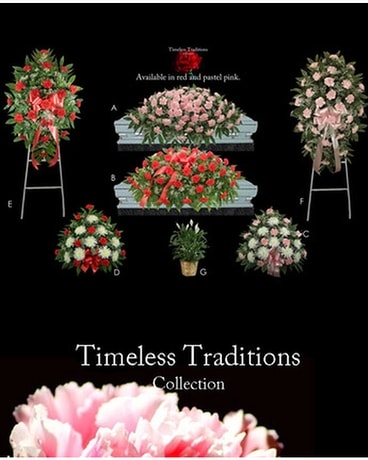 Timeless Traditions Collections (Pink) - $740.00
Timeless Traditions Collections (Red) - $650.00
A: Timeless Traditions Pink Carnation Casket Spray - $365.00
B: Timeless Traditions Red Carnation Casket Spray - $300.00
C: Timeless Traditions Pink Carnation and Fuji Mache - $175.00
D: Timeless Traditions: Red Carnations Mache - $185.00
E: Timeless Traditions Standing Spray Red - $165.00
F: Timeless Traditions Pink Carnation Standing Spray - $200.00